Thanks to one of Steven's subscribers here at the website, Clare Juland, and old interview has surfaced from the time when Steven was filming Blake's Seven. It appeared in teen magazine, Jackie, Issue 934, November 28, 1981.
Click on the image to view it full-size.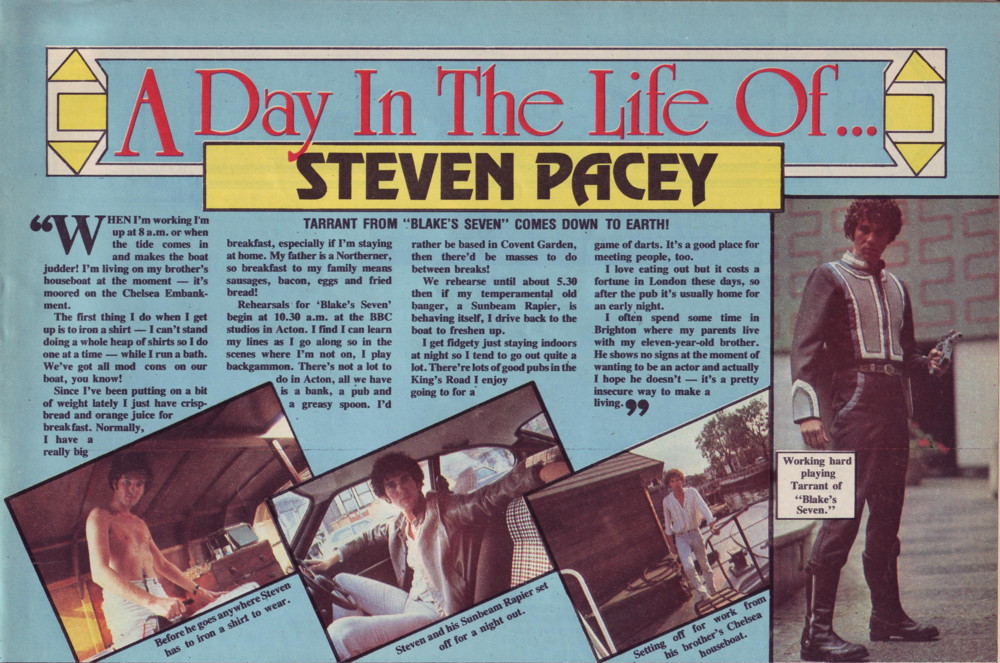 Transcript:
A Day in the Life of: Steven Pacey

Jackie,
Issue 934, November 28, 1981
Verbatim Transcript

"When I'm working I'm up at 8am or when the tide comes in and makes the boat judder! I'm living on my brother's houseboat at the moment – it's moored on the Chelsea embankment.

The first thing I do when I get up is to iron a shirt – I can't stand doing a whole heap of shirts so I do one at a time – while I run a bath. We've got all mod cons on our boat, you know!

Since I've been putting on a bit of weight lately I just have crisp-bread and orange juice for breakfast. Normally, I have a really big breakfast, especially if I'm staying at home. My father is a Northerner, so breakfast to my family means sausages, bacon, eggs and fried bread!

Rehearsals for 'Blake's Seven' begin at 10.30am at the BB studios in Acton. I find I can learn my lines as I go along so in the scenes where I'm not on, I play backgammon. There's not a lot to do in Acton, all we have is a bank, a pub and a greasy spoon. I'd rather be based in Covent Garden, then there'd be masses to do between breaks!

We rehearse until about 5.30pm then if my temperamental old banger, a Sunbeam Rapier, is behaving itself, I drive back to the boat to freshen up.

I get fidgety just staying indoors at night so I tend to go out quite a lot. There're lots of good pubs in the King's Road I enjoy going to for a game of darts. It's a good place for meeting people, too.

I love eating out but it costs a fortune in London these days, so after the pub it's usually home for an early night.

I often spend some time in Brighton where my parents live with my eleven-year-old brother. He shows no signs at the moment of wanting to be an actor and actually I hope he doesn't – it's a pretty insecure way to make a living."

In the same issue of the magazine, the following article also appeared:
Click on the image to view it full-size.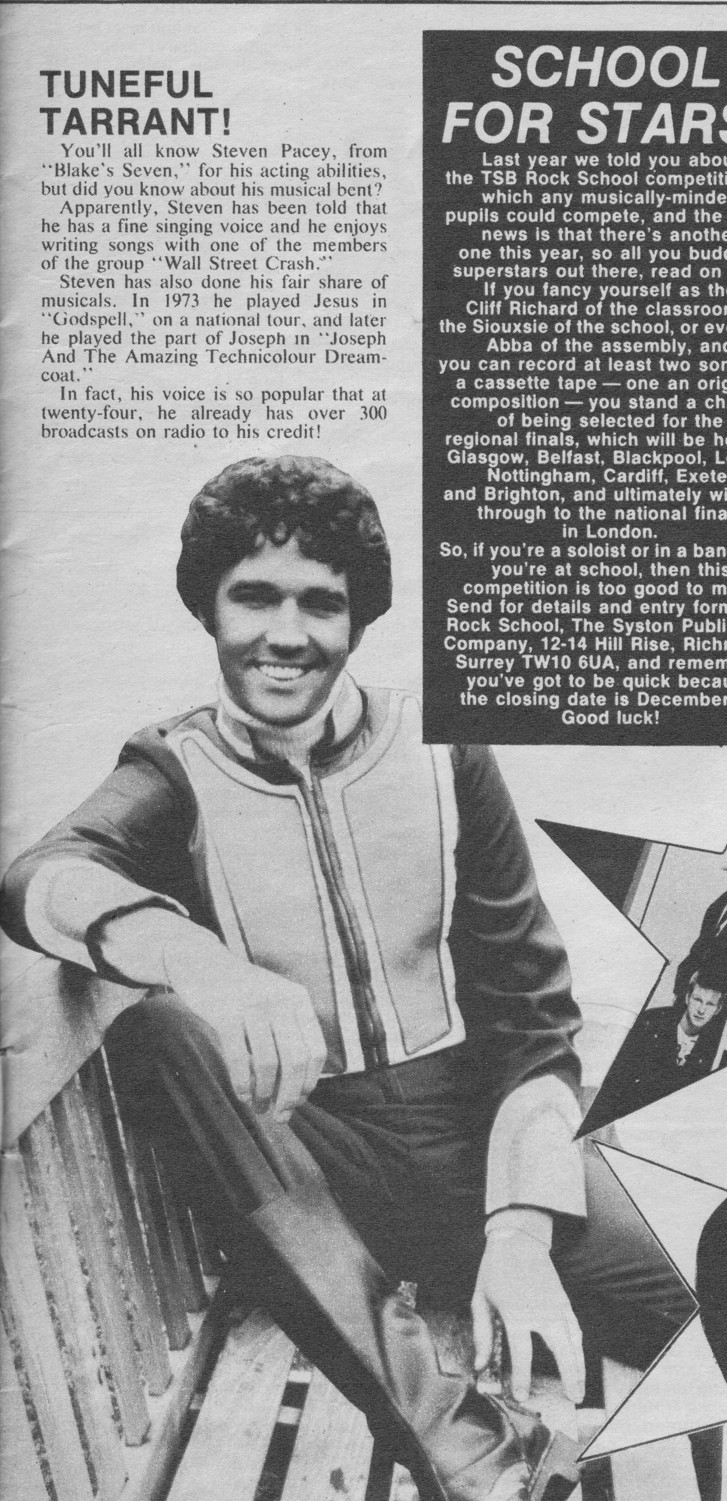 Transcript:
Tuneful Tarrant!

Jackie,
Issue 934, November 28, 1981
Verbatim Transcript

You'll all know Steven Pacey, from Blake's Seven, for his acting abilities, but did you know about his musical bent?

Apparently, Steven has been told that he has a fine singing voice and he enjoys writing songs with one of the members of the group Wall Street Crash.

Steven has also done his fair share of musicals. In 1973 he played Jesus in Godspell, on a national tour, and later he played the part of Joseph in Joseph and the Amazing Technicolour Dreamcoat.

In fact, his voice is so popular that at twenty-four, he already has over 300 broadcasts on radio to his credit!