Robert Wilson
Steven Pacey has read two of Robert Wilson's Charles Boxer crime fiction onto audiobook: Capital Punishment, and it's sequel, You Will Never Find Me.
Robert Wilson,
from the author's Official Website.
Used without permission.

Robert Wilson is a British crime-writer. He has lived and worked around the world, including spells shipbroking, tourguiding, and exporting bathrooms to Nigeria. After escaping car crashes, civil wars and angry baboons, he and his wife settled in Portugal, and Rob turned to novels.
Robert has a degree in English from Oxford. His espionage novel, A Small Death in Lisbon, won the 1999 CWA Dagger Award.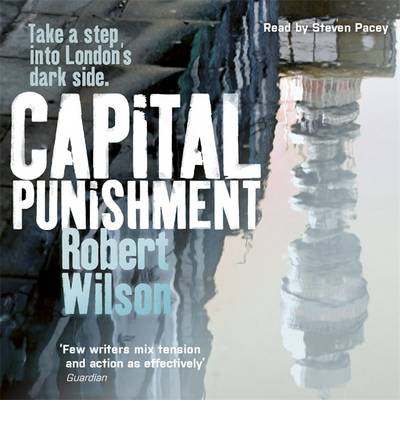 Capital Punishment is the first in a series of novels featuring character Charles Boxer:
As a freelance kidnap consultant, Charles Boxer is in demand with a band of billionaires in the know and they're not just interested in his army training, detective experience and high stakes poker psychology. An early trauma has left him with unanswerable questions and however much he clings to the forces of good in his world he finds himself inextricably drawn to the unresolved dark matter at his core.
Title: Capital Punishment
Publisher: Orion Publishing Group
Synopsis:
Charles Boxer, ex-army, ex-police, has found his niche in private security. His speciality: high-stakes kidnap resolution. But it's a rootless life that doesn't impress his teenage daughter, Amy, or her mother, Detective Sergeant Mercy Danqah. Alyshia D'Cruz, daughter of Indian tycoon Francisco 'Frank' D'Cruz, has grown up in London and Mumbai wanting for nothing. But one night, after a boozy evening out, she gets in the wrong cab home…When D'Cruz hires Boxer to find Alyshia, Boxer knows Frank's colourful business career has made him plenty of enemies along the way. Despite the vast D'Cruz fortune, the kidnappers don't want cash – instead favouring a cruel and lethal game. But the UK government don't want their big new investor to lose his daughter in the heart of the capital. MI6 officers in India follow Boxer's leads and soon it seems more lives than Alyshia's are at stake, as the trail crosses paths with a terrorist plot on British soil. To save Alyshia, Boxer must dodge religious fanatics, Indian mobsters and London's homegrown crimelords. CAPITAL PUNISHMENT is a journey to the dark side of people and places that lie just out of view, waiting for the moment to tear a life apart.
IMAGE
FORMAT
RELEASE DATE
LENGTH


Digital Download
17 January, 2013
15 hours and 5 minutes
Unabridged
Title: Capital Punishment
Publisher: Orion Publishing Group
Synopsis:
Charlie Boxer messed up his family life. First the army, then the police, then high-stakes kidnap and recovery, his ex-wife and daughter learnt to live without him as his work took him places no man can come back from unscarred. Trying to rebuild a relationship with Amy, his teenage daughter, hasn't been easy. But Charlie only realises just how wrong things have gone when he finds her empty room and a note: You will never find me.

Having spent years working to track down kidnap victims, Charlie knows that sometimes, the missing don't want to be found. And he knows the hell it brings for families – the vanished are neither dead or alive, but simply gone. Worse still, Charlie Boxer knows how quickly a life can fall apart once you're living under the radar. For Charlie, danger has finally come to his front door and to crack the hardest case he's ever worked, it's time to face up to the true meaning of the sins of the father.
IMAGE
FORMAT
RELEASE DATE
LENGTH


Digital Download
13 February, 2014
13 hours and 41 minutes
Unabridged