Gray Matter
Developers: Wizarbox
Publisher: dtp entertainment
Official Website
IMDb Page
Press Release
Steven did the voice-over for both the English and German version of the game!
Go to the Official Website, click on "Media", then on "Audio" to hear a sample.
Steven's character, Dr David Styles

Story Synopsis:
Gray Matter is the first adventure game by renowned author Jane Jensen since the release of Gabriel Knight 3: the story mixes eerie goings-on with supernatural events in best Jensen-style. Neurobiologist Dr. David Styles is one of the game's central characters: since losing his wife in a horrible accident some several years ago, he has become a recluse, seldom leaving Dread Hill House, his English country estate.

When student and part-time street performer Samantha Everett shows up at his doorstep, she unexpectedly becomes his assistant. Hailing from America, she has been travelling through most of Europe the last couple years. Her first task: finding six test subjects at Oxford University for one of Styles' experiments. The experiment starts off innocently enough, but then inexplicable incidents start mounting. And Styles is visited by his dear departed wife. Now it's up to Sam and Dr. Styles to solve the mysteries of Dread Hill House.

In Gray Matter, players control both Dr. David Styles as well as Samantha Everett in their bid to uncover the secrets and find out the truth. Gray Matter tackles questions concerning the nature of reality and the power of the human mind in constructing the world we take for granted.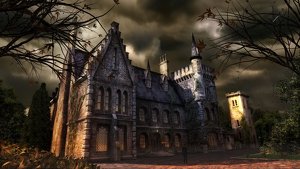 Dread Hill House

Cast and Creatives:
| CAST | CHARACTER |
| --- | --- |
| Philippa Alexander | Samantha Everett |
| Steven Pacey | David Styles |
| Sacha Dhawan | Malik |
| Karen Hayley | Various Characters |
| Adrienne Posta | Mrs Dalton |
CREATIVES
Writer/Designer
Jane Jensen
Composer
Robert Holmes
Voice Director
Lorelei King
Producer
Paul Guillaumon
Art Direction
Fred Augis
Editions:
IMAGE
FORMAT
RELEASE DATE
XBox 360
Germany: 12 November, 2010
Spain: November 19, 2010
North America: February 22, 2011
Europe: February 25, 2011
Australia: March 3, 2011
Windows/PC
Germany: 12 November, 2010
Spain: November 19, 2010
North America: February 22, 2011
Europe: February 25, 2011
Australia: March 3, 2011

Praise for Steven Pacey's voicework on Gray Matter:
"The actor who played Dr. David Styles was Steven Pacey. I got to see him recording for a little bit. Very cool!"

Jane Jensen, creator of Gray Matter, 11 April, 2012, Pinkerton Road Studio BLOG

"The last part of 2009 was a busy time on the project. In September I flew to London for a 7 day Gray Matter voice-over recording session. It was uber thrilling to be back in the studio once again for a big adventure game recording … David, played by Steven Pacey, was appropriately intimidating. In fact, all the actors were world-class, as was our director, Lorelei King. To take a cue from Candide, we really did get "the best of all possible voices"."

Jane Jensen, creator of Gray Matter, 5 March, 2010, Jane Jensen's BLOG (now archived).

"Mr. Pacey was awesome in the role of David, kudos!"

"Steven Pacey that voices David Styles is incredible."
"Steven Pacey? As in Tarrant?"
"Yep. He's fantastic,. It helps that his character, David Styles, is very well written and developed."

"The voice acting in Gray Matter is wonderful. You have a wide range of accents and all sound authentic to the region they are supposed to be from. My favorite voice actor was David Styles … everyone did an excellent job bringing their characters to live [sic]."

"On another note, I don't think it would spoil anything if I told everybody that, Steven Pacey, does an absolutely terrific job voicing, Dr. Styles. Some have argued that his voice is a little weathered and aged to represent a 35 year-old character, but once you listen to it long enough, I think you'd agree that he was born to play, David, as hardly any others would've suited the role better. He's by far the standout of the entire cast. People will be in for a surprise."

"Steven Pacey voices the grieving David Styles, and the performance is so good you end up feeling his pain and loss as your own."
Screenshots from Gray Matter
Please note: The term Gray Matter as well as all associated graphics, logos, and/or other tradermarks, tradenames or copyrights are the property of the dtp entertainment and are used herein for factual descriptive purposes only. We are in no way associated with or authorized by the dtp entertainment and neither that entity nor any of its affiliates have licensed or endorsed us to sell tickets, goods and or services.