Spamalot (2012, 2013)
Audiences all around the world have been roaring with laughter since Monty Python's Spamalot, by Eric Idle and John DuPrez, won the Tony Award for Best Musical in 2005.

Spamalot tells the legendary tale of King Arthur and the knights of the Round Table and features a bevy (or possibly a brace) of beautiful show girls, witch burnings (cancelled too expensive) not to mention cows, killer rabbits and French people. The show features the hilarious songs He Is Not Dead Yet, Knights Of The Round Table, Find Your Grail and of course the Nation's Favourite Comedy Song (Reader's Digest Poll 2009) – Always Look on the Bright Side of Life.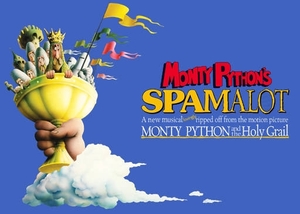 Announcements:
First annoucements that Steven Pacey's had been cast as King Arthur in the Spamalot regional tour appeared on the Spamalot Twitter Feed and Facebook Page, and on the Musical Theatre Blog on 10 January, 2012.

Venues:
Steven Pacey appeared in Spamalot between 30th January and 21st April, 2012 at various regional venues:
| | |
| --- | --- |
| Venue | Dates |
| Grimsby Auditorium | 30th January – 3th February |
| Torquay Princess Theatre | 14th – 18th February |
| York Grand Opera House | 20th – 25th February |
| Stoke Regent Theatre | 27th February – 3rd March |
| Glasgow King's Theatre | 12th – 17th March |
| Edinburgh Playhouse | 19th – 24th March |
| Birmingham New Alexandra | 26th – 31st March |
| Richmond Theatre | 2nd – 7th April |
| Aylesbury Waterside Theatre | 9th – 14th April |
| Sunderland Empire | 16th – 21st April |
And again, during 2013, between 3 April and 18 May, at the Playhouse Theatre.
Sessions were approximately one hour and 30 minutes, with one 20 minute interval, from Monday – Saturday at 7:30pm, with matinees at 2:30pm Wednesday and Saturday. Tickets were £15.00 to £45.00, sold through the Ambassador Theatre Group.
Cast and Creatives:
CAST
2012
CHARACTER
Steven Pacey
King Arthur
Bonnie Langford
The Lady of the Lake
Todd Carty
Patsy
Robin Armstrong
Sir Bedevere, Dennis' Mother, Concorde, Guard
Rob Delaney
Sir Robin, Mayor, Guard
Adam Ellis
Prince Herbert, Historian, Not Dead Fred, Minstrel
Kit Orton
Sir Lancelot, French Taunter, Knight of Ni, Tim the Enchanter
John Robins
Sir Dennis Galahad, Black Knight, Prince Herbert's Father
Eric Idle
God
Tim Bonser, Rachel Knowles, Hannah Malekzad, Niall Sheehy
Ensemble
Amelia Adams-Pearce, Michael Burgen, James Nelson
Swings
CREATIVES
Writer
Eric Idle (based on the original screenplay)
Music
John Du Prez and Eric Idle
Director
Christopher Luscombe
Set and Costume Designer
Hugh Durrant
Lighting Designer
Nick Rickhings
Sound Designer
Terry Jardine and Avgoustos Psillas
Choreographer
Jenny Arnold
Musical Director
Tony Castro
Space dictates that we have only included photos featuring Steven Pacey.
Promotional Photographs: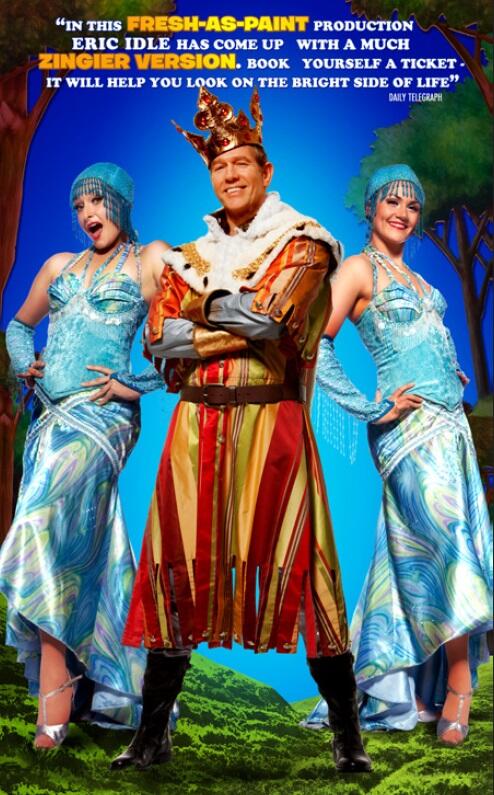 New poster for Spamalot at the Playhouse Theatre.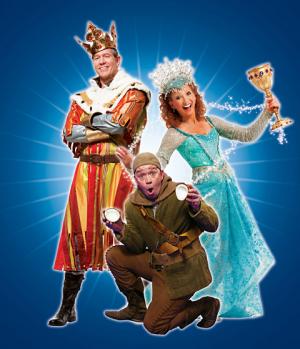 Bonnie Langford, Steven Pacey and Todd Carty in Spamalot.
Cast Promotional Photographs: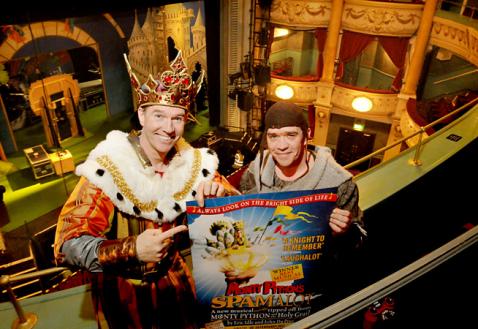 Steven Pacey and Todd Carty.
Photograph from The York Press, uncredited.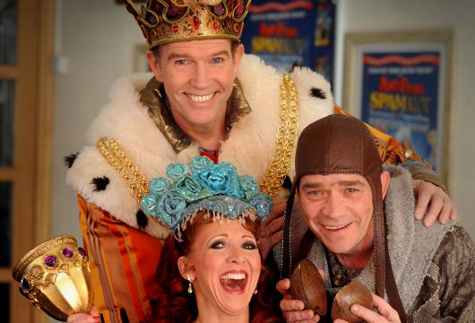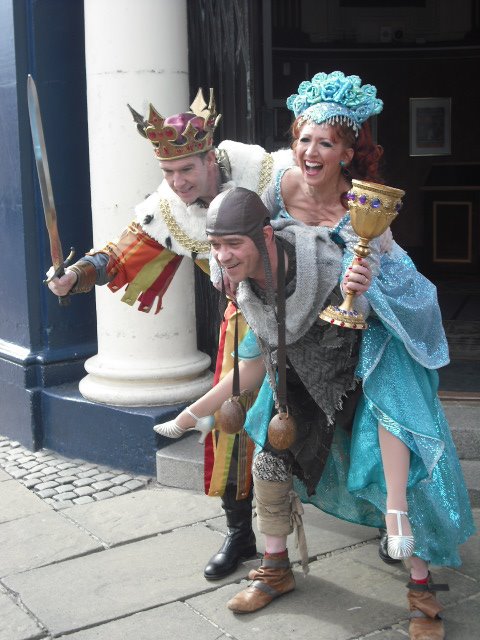 Spamalot Cast
Photo: tweeted by Sunderland Empire Theatre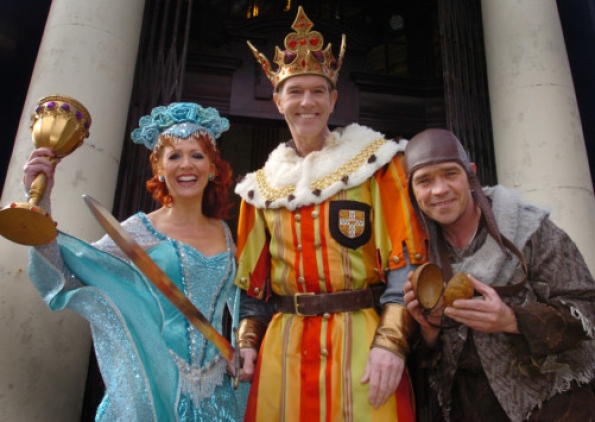 Stephen Pacey, Todd Carty and Bonnie Langford arrive in Sunderland to star in the smash-hit musical Spamalot
Photo: Sunderland Echo, uncredited
Arthur (Steven Pacey) is a joy to watch, every emotion plays on his face; his singing voice is fantastic and carries well … Pacey's comic timing was excellent.

Steven Pacey … excelling as the straightman to the infectious silliness of both characters and plot.

Steven Pacey captures the essence of the King perfectly.

Steven Pacey makes for a fine buffoonish King Arthur. His heartfelt number I'm All Alone, despite the entire cast thronging the stage is a hoot.

Alan Chadwick,STV

Steven Pacey was glorious as King Arthur, the song, I'm All Alone was a highlight of the show.
… if you can catch with Langford and Pacey in the cast, you're sure of a real treat!

Steven Pacey is, perhaps, surprisingly cast as King Arthur; being a 'proper actor'. His plausible delivery, though, was the perfect antithesis for the bizarre caricatures of the supporting cast. His timing was impeccable, particularly in the quick-fire scene where he meets Dennis Galahad (Jon Robyns) for the first time.

Pacey has a strong delivery, his wonderfully befuddled "nice-but-dim" King Arthur a beautifully crafted creation.

Steven Pacey's lead turn as Arthur carries things along with fine voice and comedic touch.

Steven Pacey as King Arthur covers all aspects of the role, commanding at times but mainly chief source of amusement with special mention for the stage fight scenes.

Steven Pacey as Arthur has a fine singing voice and stage presence.

Steven Pacey sparkles as King Arthur.

Steven Pacey (Spooks, Pie in the Sky and Lovejoy) who stars as Arthur, King of the Britons, played the part with panache – with a giant ego and surprisingly good singing voice to boot.

Steven Pacey was brilliant as King Arthur.

… strong performance from West End veteran Steven Pacey as King Arthur.

Steven Pacey … provided the exact dryness, comedy and slight stupidity to the role with which we are all familiar.

Steven Pacey holds the show together as King Arthur, with a fine voice and the Midas touch of comedy.

Steven Pacey is both clown and commander as King Arthur.


Interview:
Marion McMullen
Coventry Telegraph
Mar 23 2012
Verbatim Transcript

"Leamington's Steven Pacey is New King of Spamalot"

ALL hail the new king of Spamalot. He has the golden crown, legendary sword Excalibur and even a trusty steed … well, Todd Carty equipped with a couple of coconut shells.

Tim Curry, Phill Jupitus, Matthew Kelly, Sanjeev Bhaskar and Marcus Brigstocke have all plonked the backsides on the Spamalot royal throne and now it's the turn of Leamington's Steven Pacey.

The former Blake's 7 actor once had the universe at his fingertips in the BBC 1 sci-fi series, but he is now the ruler of all he surveys as King Arthur in Monty Python's medieval spoof.

He is touring the country with the hit show which sees Bonnie Langford as the Lady Of The Lake and Todd Carty back as the king's loyal servant Patsy.

So how is Steven coping with knights of the round table, killer rabbits and beautiful show girls?

"It's been a bit of a test not to laugh on stage," he admits with a grin. "The boys in the cast can be a bit naughty and there is a bit of ad-libbing going on. The Knights Of Ni certainly keep me on my toes. I have been known to be a victim of corpsing."

Steven says he laughed out loud when he first read the script for Spamalot and couldn't wait to put on the crown.

"There's just waves of laughter from the audience during the show. It's wonderful to hear. I remember seeing Monty Python sketches when I was growing up and thinking the naked man playing the piano was very rude and naughty. How times have changed.

"We sometimes even get audiences saying the more famous punchlines along with us, but you don't have to be a Monty Python fan to enjoy the show. It's just classic comedy."

Spamalot has had audiences all around the world roaring with laughter and there have been productions in America, Australia, New Zealand, Japan, Canada and across Europe.

Eric Idle, who says he lovingly ripped off Monty Python And The Holy Grail for Spamalot, even makes a special screen appearance and Steven says songs like Always Look On The Bright Side Of Life are always a hit.

The Olivier Award-nominated actor has appeared on TV in dramas such as Wallander, Taggart, Doctors, Foyle's War and Spooks and has recorded more than 300 radio plays and 200 audio books.

He also played Graham Norton's other half in the West End in stage hit La Cage Aux Folles and says: "He was wonderful, so professional. Of course, he trained as a actor and he was great to work with. Shows like La Cage Aux Folles and Spamalot are just a joy to do."

Steven's family originally came from Yorkshire and his father was a builder. He jokes that his parents were working their way down the country in search of good weather when they reached Leamington and he was born.

"We left when I was a babe in arms and ended up in Brighton, but I now know Coventry and Warwickshire a lot better because my twin daughters Jessica and Laura both went to Warwick University.

"They studied history and classics and now work in publishing so they haven't followed me into acting, thank goodness."

He laughs: "As they say, don't put your daughter on the stage Mrs Worthington. All the poison I dripped in their ears about acting must have paid off. They are doing well without my help, but will come and see Spamalot at some point on the tour."