Peter Pan (2011)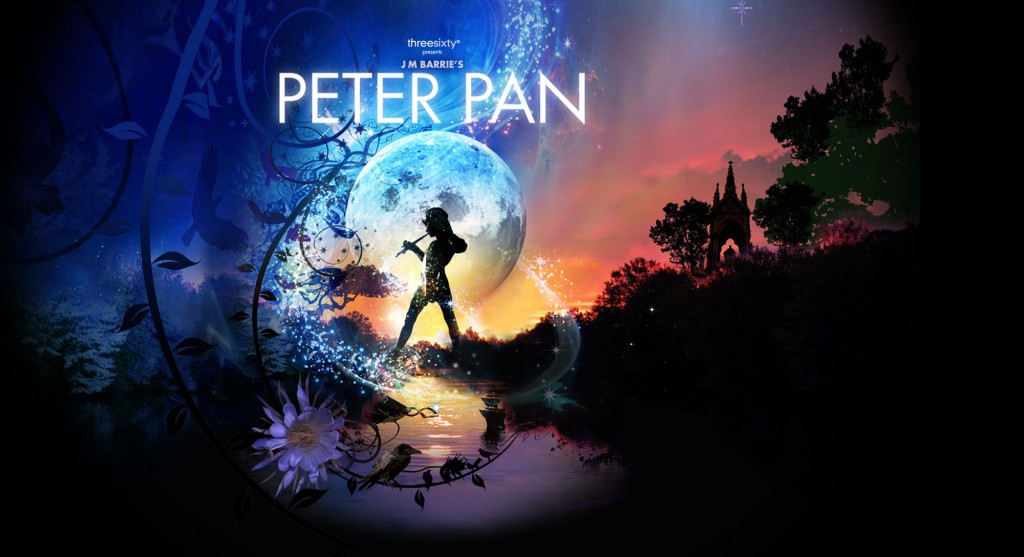 Broadway In Chicago and threesixty° entertainment are excited to announce a unique event – a spectacular new production of J M Barrie's classic story, PETER PAN.
Conceived by an award-winning creative team this smash hit production features amazing puppets, epic music, dazzling flying scenes and the world's first 360-degree CGI theater set. Performed in a state-of-the-art theatre pavilion, this magical new "in-the-round" production of Peter Pan is an extraordinary experience for the whole family.
Promotional Material
Space dictates that we have only included promotional material featuring Steven Pacey.
The Peter Pan Facebook Page featured one-on-one interviews with several members of the cast, including Steven: INTERVIEW HERE if you can't see the video below.

Steven reminisced about reading Peter Pan as a child.
On August 4, Alex Shadbad, from WTVO Channel 17 News, talked to Steven Pacey about the amazing reception Peter Pan has recieved in Chicago, its startling CGI flying effects, and the joy of playing 'the villian'.

Click on the picture above to go to the interview at mystateline.com.

Transcript:
Alex: The story of Peter Pan is dazzling fans on Broadway in Chicago. Earlier in this week, one of the actors in the show stopped by our studio. Joining me, now, is Steven Pacey, who plays Captain Hook on Broadway in Chicago's Peter Pan. Tell me about this production of Peter Pan and what sets sets it apart.

Steven: Well, it's a very special production of Peter Pan. Peter Pan is an extraordinary story; and, it certainly was my favourite as a child, and I know it's a heck of a lot of other people's favourite, as well.
But, this production is particularly exciting because, we have a 360 degree CGI screen, so when Peter Pan flies, when Tinkerbell flies, you actually feel as if you're flying with them. It's quite extraordinary. Because I joined the company after it had already started, I had a chance to actually see it myself and I was transported. It really is the most amazing feeling, to actually … because the screens are all around you, and suddenly you're hovering over London with the … children, the Darling children and Peter Pan and it's fantastic. It's the most exciting thing.
We've got puppetry, you know, Nana the dog is there, the crocodile. It's a fairly epic production. Yeah, it's pretty exciting.

Alex: And you play Captain Hook. Tell me about your character.

Steven: I do. I do. Well, I always told my agent I'd give my right arm to be in this show, and I had to in the end; that's the way it went. But it's fantastic; it's great.
The children probably hate me; but, I really enjoy them hating me, because it's great to play a villain. I've played lots of nice guys in the past, and I'd give them all up for this one. It's fantastic.

Alex: So you've always been interested in playing the bad guy.

Steven: Yeah. Absolutely. It's much more fun. Yeah. Who wants to be a hero?

Alex: The production runs until August 21st. For more information on tickets and show-times head to our website: mystateline.com.
Steven Pacey attended the WGN-TV Back to School Kids Fair on Friday, 5 August to promote Peter Pan. Over 5,000 people flocked to the annual event, now in its 10th year. The free fair featured food, fun, health screenings, safety tips and everything parents need to get kids ready for school.

Steven Pacey at the Chicago Kid's Fair, 5 August, 2011
Image from: Peter Pan Facebook Page

Portions of the fair were broadcast live on WGN Morning News, including this interview with cast members Steven Pacey (Captain Hook), Chuck Bradley (Peter Pan) and Evelyn Hoskins (Wendy Darling):

Embedded video and information courtesy of WGN
Although Steven did not go on to perform in Boston, he was there on June 6, 2011 to promote the tour's next stop:

Photo Credits: Angela Rowlings, Boston Herald
Mayor Tom Menino with Captain Hook (Steven Pacey) at City Hall
Coverage by the Boston Herald.
Steven Pacey appeared in Peter Pan from 29 April, 2011 until 21 August, 2011; the entire run at the at the Chicago Tribune Freedom Center.
Sessions were:
THE FIRST WEEK OF THE SHOW
Friday, April 29 @ 7:00pm
Saturday, April 30 @ 2:00pm
Saturday, April 30 @ 7:00pm
Sunday, May 1 @ 1:00pm
Sunday, May 1 @ 5:00pm
Regular Schedule
Wednesdays: @ 2:00pm & 7:00pm
Thursdays-Fridays: @ 7:00pm
Saturdays: @ 2:00pm & 7:00pm
Sundays: @ 1:00pm & 5:00pm
CAST
(in order of appearance)
CHARACTER
Scott Weston
Michael Darling
Evelyn Hoskins
Wendy Darling
Tom Larkin
John Darling
Joshua Holden
Lead Puppeteer, Nana the Dog, Ostrich, Illusion, Crocodile
Regina Leslie
Mrs Darling, Neverbird
Steven Pacey
Captain Hook, Mr Darling
Emily Yetter
Tinkerbell
Cairan Joyce
Peter Pan
Lee Turnbull
Slightly
Darren Barrere
Tootles
Ben Adams
Nibs
Ian Street
Curly
Keith Richards
Smee, Cab Driver #1
Josh Swales
Starkey, Cab Driver #2
Alejandro Cordoba
Mullins, Cecco
Alexander Knapp
Skylights, Bill Jukes
Ian Paul Custer
Cookson
Chuck Bradley
Alf Mason, Cab Driver #3
Heidi Buehler
Tiger Lily
Amanda Goble, Kasumi Kato
Mermaid
Rachel Lien
Jane
CREATIVES
Writer
JM Barrie; adapted by Tanya Ronder
Music Composer & Conductor
Benjamin Wallfisch
Executive Producer
Dana Sherman
Set, Costume & 3D Projection Design
William Dudley
Director
Ben Harrison
Choreographer
Fleur Darkin
Lighting Designer
Mark Henderson
Sound Designer
Gregory Clark
Fight Direction
Puppetry Direction
Music Director
Illusions
Nicholas Hall
Sue Buckmaster
Duncan Wisbey
Paul Kieve
Casting
Alison Chard
Pippa Ailion
Greg Hubbard
Michael Donavan
If you look carefully, you may catch Steven taking his bow:
Space dictates that we have only included photos featuring Steven Pacey.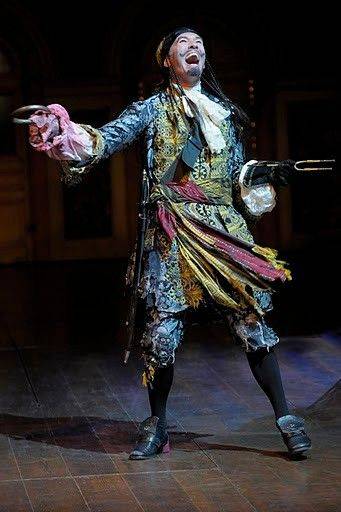 Photograph featured in the Daily Herald; uncredited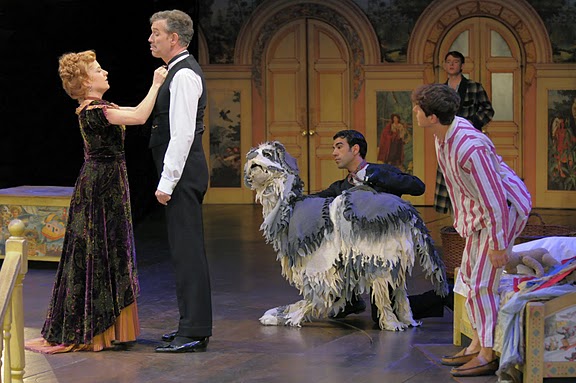 Image: production photo, not credited, published at Chicago Radio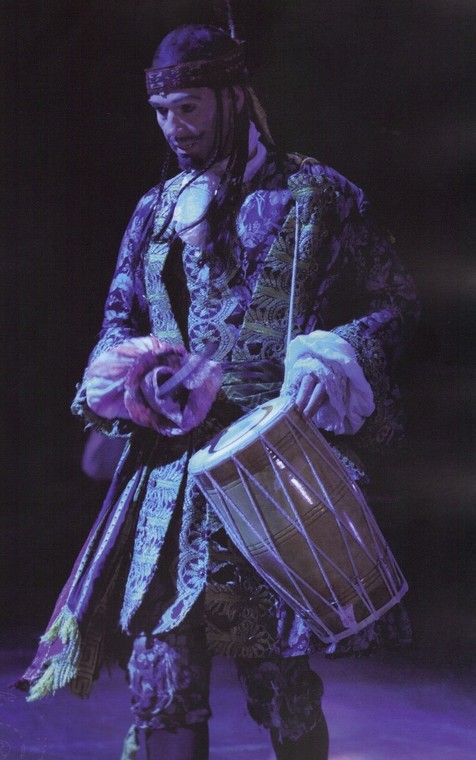 Image: production photo, not credited, published in Theatre Programme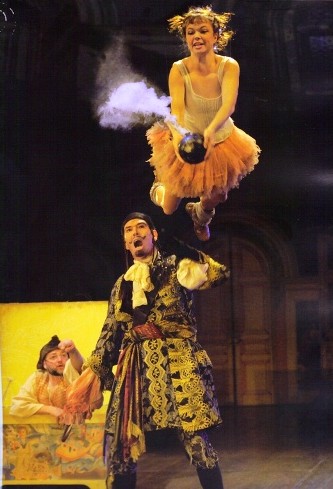 Image: production photo, not credited, published in Theatre Programme
Steven Pacey is a perfect Captain Hook, every bit the entertaining bad guy who can draw the audience.

Playing the most threatening (and thus mockable) adult, Steven Pacey is suitably silly, especially in his unseemly popularity competition for Peter.

Pacey's Captain Hook is a particularly elegant, well-spoken villain

Dan Zeff

The real powerhouse however is the extraordinary talents of Steven Pacey as Captain Hook; his ability to play a child's villain and still be adored by the audience was amazing.

Tyler Tidwell, Chicago Stage Style

… Steven Pacey elegantly underplaying the double roll of Mr. Darling and Capt. Hook

Jonathan Abarbanel, Windy City Times
Please note: The term threesixty° as well as all associated graphics, logos, and/or other tradermarks, tradenames or copyrights are the property of threesixty° and are used herein for factual descriptive purposes only. We are in no way associated with or authorized by threesixty° and neither that entity nor any of its affiliates have licensed or endorsed us to sell tickets, goods and or services in conjunction with their events.