Red Letter Day (1976)
Series Synopsis:
It happens in almost everyone's life. There is a special day – a day of unusual significance. A turning point in life, perhaps in career, romance or fortune; a day to remember. This anthology of plays, each as individual as the people and events portrayed, looks at seven such Red Letter Days.

Ranging from the poignant to the surreal, all of the plays are infused with a wry and tender humour. They feature some of British television's most accomplished actors and writers.

Summary from Network (Distributor)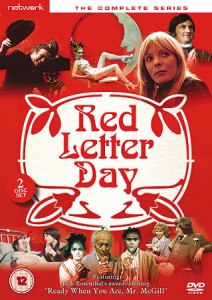 Broadcast:
Red Letter Day was produced by Granada in 1975 and telecast for the first time on ITV in 1976. It consisted of six episodes, each approximately 50 minutes (actual length of each episode).
Video Tracks: 1.33:1 / Colour
Audio Tracks: Mono English
Rating: 12
Format: 2 / PAL
Released: 3 October, 2011
Distributor: Network. Buy the DVD.

| EPISODE TITLE | WRITER | DIRECTOR | ORIGINAL TRANSMISSION DATE | CAST |
| --- | --- | --- | --- | --- |
| Ready When You Are, Mr McGill | Jack Rosenthal | Mike Newell | 11 January 1976 | Joe Black, Jack Shepherd, Barbara Moore-Black, Stanley Lebor and Fred Feast |
| The Five Pound Orange | Donald Churchill | June Howson | 18 January 1976 | Peter Barkworth, Sarah Badel, Bernard Horsfall and Natasha Parry |
| Well Thank You, Thursday | Jack Rosenthal | Brian Mills | 25 January 1976 | Judy Parfitt, Andrew Ray, Philip Jackson and Brenda Cavendish |
| Amazing Stories | Howard Schuman | Peter Plummer | 1 February 1976 | Rula Lenska, Joe Melia, John Normington, Harold Kasket and Ian McDiarmid |
| Match Fit | Willis Hall, based on a story by Brian Glanville | Gordon Flemyng | 8 February 1976 | Clare Kelly, Anne Reid, Steven Pacey and Roddy McMillan |
| For Services to Myself | C.P. Taylor | Gordon Flemyng | 15 February 1976 | James Hazeldine, Adrienne Frank, Alan Dobie, Ronald Radd and Gwen Cherrell |
| Bag of Yeast | Neville Smith | Michael Grigsby | 22 February 1976 | Alison Steadman, Bill Dean, Neville Smith and Peter Kerrigan |
Interview with Steven Pacey:
So well did Steven settle into television that, at the age of seventeen, he completed seven television productions in one year. One of those he remembers with particular affection.

"Granada produced a series under the umbrella title of Red Letter Day. I was given a leading role in an episode called Match Fit. It was about Scottish football manager, played by Roddy McMillan – a lovely man who has since died. I played his friend and the whole film is seen through my eyes as I narrated the story."

"It was a supercharge for me, and I thoroughly enjoyed it."

Extract from an interview with Steven Pacey,
Blake's 7 Marvel Monthly Magazine, p 20
Issue 3, December 1981
Episode Synopsis:
Pretty much a two-hander, this reflects the relationship between a man and a boy who are both recovering in a TB clinic and who have a love in common – footy! Brian is a Londoner but he still recognises the very dour Scottish football manager Billy Marshall. Through a series of monologues, Brian soon finds himself the one to be offering advice. It proves to be just the tonic.

From Review by Stuart McLean
IMDB Listing: Match Fit
BFI Listing: Match Fit

Screen Captures: Copyright remains with Network.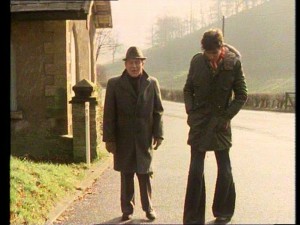 Image uploaded by Stuart McLean
Copyright remains with Network
Images uploaded at Horizon
Copyright remains with Network