The Constant Wife (2002)
The leading character, Constance Middleton, is a calm, intelligent and self-possessed wife of a successful London doctor. Knowing full well of her husband's infidelity with her best friend Marie-Louise, Constance purposefully maintains the fiction held by her other friends, mother and sister that she has no idea of the affair.

However, when confronted by Marie-Louise's jealous husband, Constance reacts in a way not expected by her husband, mother or sister. She first deftly conceals the affair from the husband, and then tells her family that she has known all along. She further shocks them by demonstrating a total lack of sentiment on the subject of matrimony. The modern wife, she explains, is nothing but a parasite, "a prostitute who doesn't deliver the goods."

She resolves to establish her own economic independence ("which she considers the only real independence"), going into business as an interior decorator with her friend Barbara.

After a year of successful employment, she pays her husband for her room and board, and then announces she is going off for an Italian vacation with a longtime admirer. Her husband is, in turn, shocked and outraged at this turn of events, but finally capitulates to her outrageous charm as the curtain falls.
Announcements:
News Item, What's On Stage, 6 March, 2002
Announcement, Playbill, 18 March, 2002
Announcement, London Theatre, 15 March, 2002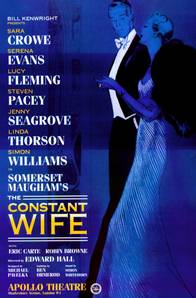 First page, Programme (Apollo)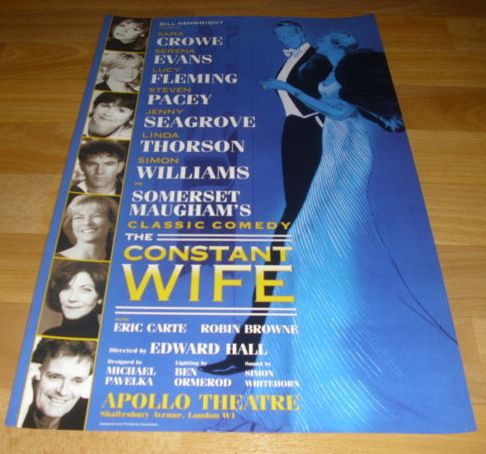 Poster (Apollo)

The Constant Wife is a play in three acts:
ACT I A summer afternoon.
ACT II Late afternoon, a fortnight later.
Act III One year later. Afternoon.
Scene: Dr. John Middleton's house in Harley Street.
Sessions were two hours 20 minutes with one interval.
Theatre Royal Windsor
The revival of The Constant Wife began its run at the Theatre Royal Windsor, from 19 to 30 March
Apollo Theatre (Shaftesbury Avenue) Dates
Previews: from 3 April
Press Night: 11 April
Run: 11 April, 2002 to 29 June 2002
Times
Monday – Saturday 8pm,
Thursday Matinee 3pm,
Saturday Matinee 4pm
Tickets
£15 – £35
Top £50.75
Lyric Theatrer
The Constant Wife continuted at the Lyric Theatre from 2nd July 2002 to 12 October 2002, with some cast changes.
Announcement of transfer to Lyric, 21 June, 2002
Announcement of transfer to Lyric, What's On Stage
Cast and Creatives:
CAST
CHARACTER
Lucy Fleming
Barbara Fawcett
Robin Browne
Bentley
Simon Williams
Bernard Kersal
Jenny Seagrove
Constance Middleton
Steven Pacey
John Middleton FRCS
Sara Crowe Apollo)
Natalie Walter (Lyric)
Marie-Louise
Serena Evans (Apollo)
Amanda Harris (Lyric)
Martha Culver
Eric Carte
Mortimer Durham
Linda Thorson
Mrs Culver
Jane Goddard
Understudy
Airlie Scott
Understudy
CREATIVES
Writer
W. Somerset Maugham
Director
Edward Hall
Designer
Michael Pavelka
Lighting Design
Ben Ormerod
Sound Design
Simon Whitehorn
Stage Manager
Deputy Stage Manager
·Natalie Brook-Reynolds
Assistant Stage Manager
Airlie Scott
Costume Supervisor
Wardrobe Mistress
Wig Mistress
Jan Bench
Trish Wilkinson
Mary-Anne Waite
Space dictates that we have only included photos featuring Steven Pacey.
Production Photographs: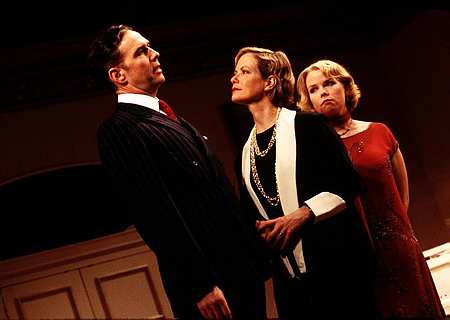 Steven Pacey (as John Middleton), Jenny Seagrove (as Constance Middleton) and Sara Crowe (as Marie-Louise, behind)
Apollo Theatre, 10 April, 2002
Photograph: Pete Jones, available from TopFoto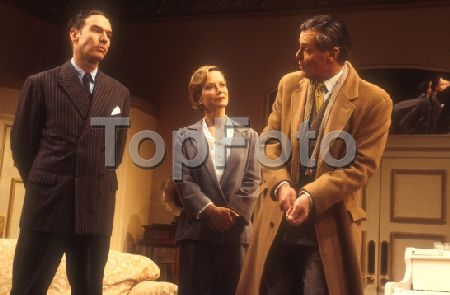 Steven Pacey, Jenny Seagrove, and Simon Williams
Apollo Theatre, 10 April, 2002
Photograph: Pete Jones, available from TopFoto
Simon Williams, Jenny Seagrove and Steven Pacey
Apollo Theatre, 28 September, 2002
Photograph: Elliott Franks, available from TopFoto
"And there is exemplary support from … Steven Pacey as her blustering husband who is angry in pinstripes"

"Best of all is Steven Pacey as the errant husband, a toothy small-time Lothario who can be both hilarious and convincing as a chap who sneaks off to the club to have a rubber before dinner."

"Some of this revival's liveliest moments invovle the lesser characters: Steven Pacey as Constance's pinstriped husband, smugly swaying backwards in self-congratulation even when he's discredited."

Bebedict Nightingale, The Times

"Steven Pacey is often very funny as her complacent but not unlikeable husband who is furiously forced to accept that what is sauce for the goose may also be sauce for the gander."

Charles Spencer, The Daily Telegraph

"Steven Pacey excellent as the feckless husband"

"As the philandering husband, Steven Pacey is a collection of cliched reactions of bluster, embarrassment and male chauvinist blindness, and yet these combine in Maugham's hands and Pacey's confident performance into a wholly rounded and not unsympathetic character."

"Still continuing in their roles, both Steven Pacey and Eric Carte, as cuckolding and cuckolded spouses respectively, maintain their appropriate bluster"

"supported by a faultless cast"
"Steven Pacey, as Constance's husband John is suitably slimy, and his fury when she reveals her intention to holiday with her lover evoked hisses and cat-calls from the females in the audience the night we attended."

Carol Gould

Photograph: Tristram Kenton, The Guardian

Unkonwn Source
Please note: The term Constant Wife as well as all associated graphics, logos, and/or other tradermarks, tradenames or copyrights are the property of Bill Kenwright Ltd, and W Somerset Maugham, etc and are used herein for factual descriptive purposes only. We are in no way associated with or authorized by the owners and neither that entity nor any of its affiliates have licensed or endorsed us to sell tickets, goods and or services in conjunction with their events.