Someone Else's Shoes (2007)
A sharp and witty satire on the commodification of art and life. An artist sells her work, but believes she still owns it. An advertising genius hunts for the next 'big idea'. A thief steals shoes and calls it activism. . . Jed just wants to do the right thing. Everything is a product: shoes, art, sex – even protest. How can we commit in a world where compromise rules?
English Touring Theatre presented Someone Else's Shoes at the Soho Theatre in 2007. It was Drew Pautz's stage debut.
Announcement at What's On Stage.
Interview with Drew Pautz.

Someone Else's Shoes is a play in one act, in 23 scenes. Sessions were approximately 1 hour and 30 minutes, with no interval. Performance Dates: 13 March (previews from 8 March) to 7 April 2007. Tickets were £7.50 to £20.
Cast and Creatives:
| CAST | CHARACTER |
| --- | --- |
| Jonjo O'Neil | Jed Pillar |
| Emily Bluni | Nadine Sanderson |
| Steven Pacey | Adam Amedeo |
| Patrick Drury | Richard Amedeo |
| Denise Gough | Mary Klemp |
CREATIVES
Writer
Drew Pautz
Director
Stephen Unwin
Designer
Anna Fleischle
Lighting Design
Malcolm Rippeth
Sound Design
Mike Furness
Composer
Olly Fox
Assistant Director
Bethany McDonald
Dialect Coach
Penny Dyer
Casting Director
Ginny Schiller
Producer
Rachel Tackley
Space dictates that we have only included photos featuring Steven Pacey.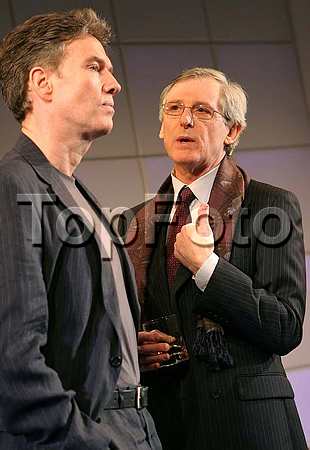 Steven Pacey (Adam) and Patrick Drury (Richard) in Someone Else's Shoes, 13 March, 2007
Photograph: Marilyn Kingwill, original available from Top Foto
"Steven Pacey's smooth, Saatchi-esque advertising head"

"As the brothers Amedeo, founders of the Mercury Shoe empire Steven Pacey and Patrick Drury are perfectly cast …"

"all the acting is first rate and well cast"

Blanche Marvin's BLOG
DATE
SOURCE
REVIEWER
STAR RATING
14 March, 2007
The Standard
Kieron Quirke
not rated
15 March, 2007
The Guardian
Lyn Gardner
**
17 March, 2007
The WRL Review BLOG
Clive Graham
not rated
18 March, 2007
The Stage
Paul Vale
not rated
18 March, 2007
Sunday Times
(page 20)
John Peter
not rated
22 March, 2007
The Telegraph
Dominic Cavendish
not rated
23 March, 2007
Horizon – Blake's 7 Appreciation Society
Jann Tarrant
not rated
30 March, 2007
Bloomberg News Archive
Matt Wolf
not rated
no date
London Theatreviews BLOG
Blanche Marvin
***
Please note: The term Someone Else's Shoes as well as all associated graphics, logos, and/or other tradermarks, tradenames or copyrights are the property of the English Touring Company, Soho Theatre and Drew Pautz and are used herein for factual descriptive purposes only. We are in no way associated with or authorized by English Touring Company, Soho Theatre and Drew Pautz and neither that entity nor any of its affiliates have licensed or endorsed us to sell tickets, goods and or services in conjunction with their events.