Charley's Aunt (2012)
Charley's rich Aunt, Donna Lucia, is visiting from Brazil and the timing couldn't be better. Her presence as a chaperone will allow him and his friend Jack to ask their respective true loves, Amy and Kitty, for their hands in marriage. But time is ticking, so where is Charley's Aunt? On learning she will be delayed by several days, they blackmail their eccentric friend, Lord Fancourt Babberley, to save their romantic plans and pose as Donna Lucia….and then Charley's real Aunt arrives…
It's Oxford, in the early 1890s. Lovestruck undergraduates Jack and Charley are planning to invite their girlfriends, Kitty and Amy to lunch. The imminent arrival of Charley's wealthy aunt, Donna Lucia from Brazil (where the nuts come from), provides the boys with the perfect chaperone. But when Donna is delayed, scuppering their romantic plans, Jack blackmails fellow student, Lord Fancourt Babberley, into impersonating Charley's Aunt. When Charley's REAL aunt unexpectedly appears the uproar begins…

Brandon Thomas's comedy, with its side-splitting mix of chases, scenes of mistaken identity, conversations at crossed purposes and wildly improbable coincidences, is one of the most entertaining farces of all time. When Charley's Aunt opened in 1892 it broke all box office records and it has been a perennial favourite ever since.

Announcements: Complete Casting for Menier Chocolate Factory's Charley's Aunt.
Written in 1892, Charley's Aunt broke all records for play runs at the time when the original production ran for 1466 performances. The play was hugely successful, quickly moving to Broadway and many other countries. The play has been adapted for a number of film versions, most notably in 1941 featuring Jack Benny in the principal role.

Produced at the Royalty Theatre, London, on 21 December, 1892; Charley's Aunt later transferred to the Globe Theatre. It's London run was 4 years!

Brandon Thomas originally played Sir Francis.

Text from Thomas, B., n.d., Charley's Aunt. A Play in Three Acts by Brandon Thomas,
Samuel French Limited: London

Charley's Aunt is a play in three acts. Sessions were approximately two hours and 30 minutes, with two 15 minute intervals. Tickets were £17.50 to £33.50, sold through all outlets. Tickets were sold out before the end of the run in London.

20 September – 10 November, 2012
Previews: 20 – 23 September, 2012
Press Night: 1 October, 2012
Tuesday to Saturday, 8pm
Saturday and Sunday, 3:30pm
and
Sunday 30 Sept, 8pm
Monday 1 Oct, 8pm
No performances
Tuesday 25 Sept
Tuesday 2 Oct
Theatre Royal, Bath, Main House
12 – 17 November, 2012
Monday – Wednesday 7.30pm
Thursday – Saturday 8.00pm
Matinees Wednesday & Saturday 2.30pm

Cast and Creataives:
Steven Pacey was perfectly cast as Colonel Sir Francis. This is Brandon Thomas' description of the character:
"COLONEL SIR FRANCIS CHESNEY, BART., late Indian Service. Tall, good-looking, smart in appearance and manner, wears a small military moustache, actually fifty-one, but looking nearer forty, very smart, cheery and young in manner". (p. 28)
Text from Thomas, B., n.d., Charley's Aunt. A Play in Three Acts by Brandon Thomas,
Samuel French Limited: London

CAST
CHARACTER
Jane Asher
Donna Lucia
Benjamin Askew
Charley
Ellie Bevan
Amy
Charlie Clemmow
Ela
Matthew Horne
Fancourt Babberley
Charles Kay
Brassett
Norman Pace
Spettigue
Steven Pacey
Colonel Sir Francis Chesney
Dominic Tighe
Jack Chesney
Leah Whitaker
Kitty
CREATIVES
Writer
Brandon Thomas
Director
Ian Talbot
Designer
Paul Fransworth
Lighting Design
Jason Taylor
Sound Design
David Oglivy
Space dictates that we have only included photos featuring Steven Pacey.
Rehearsal Photographs:
An interview with Jane Asher in The Lady Magazine included a rehearsal photograph for Charley's Aunt featuring Steven Pacey.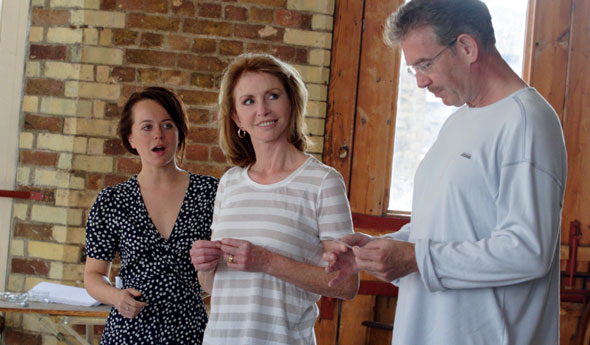 Reahearsal for Charley's Aunt. Leah Whittaker, Jane Asher and Steven Pacey
Photo: uncredited, from The Lady Magazine
.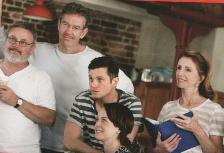 Reahearsal for Charley's Aunt. Norman Pace, Steven Pacey, Matthew Horne, Lee Whittaker and Jane Asher.
Photo: uncredited, probably from Charley's Aunt program.
.
Rehearsal Photo, uncredited, probably from Charley's Aunt program.
The Real Chrisparkle
Production Photographs:

All the Photographs are copyright, but available for purchase for private use. Just click on the link to go to the photographer's website.
Press Night Photographs:

All the Photographs are copyright, but available for purchase for private use. Just click on the links under the photographs to go to the photographer's website.
Professional Reviews:
The finest of the oldies' performances, though, is from Steven Pacey as the aunt's old flame Sir Francis Chesney. Far from being crusty, Pacey's Sir Francis is as jovial and animated as a middle-aged Bertie Wooster, appropriately enough for an actor who played that role …

There is strong support, too … from Steven Pacey as a frisky old soldier with ramrod back and waxed moustache.

Steven Pacey's wonderfully crisp and practical Sir Francis Chesney …

Steven Pacey is spot-on as a crusty old colonel in desperate search of a rich wife and "a rattling good spanking brandy and soda".

… although it may be invidious to pick one other individual out for special mention, there is marvellous scene stealing by Steven Pacey as Francis Chesney, who approaches courtship of Charley's Aunt as a military operation, steeling himself to make the ultimate sacrifice to secure his son's future.

… enjoyable support comes from Steven Pacey and Jane Asher, whose amorous entanglement is a grown-up version of the younger characters' fragile intrigue.

Steven Pacey, all military bluster as Jack's father, surpasses [the passe poshness only found onstage] to manage genuine laughs.

… Steven Pacey gets some of the biggest laughs as the cash-strapped Sir Francis Chesney, especially when he steels himself to woo the disguised Babbs for the sake of her fortune.

Julie Carpenter, Express

Steven Pacey pretty much carries the second act as Jack's stiff-upper-lipped old soldier father.

Andrzej Lukowski, Time Out London

Steven Pacey works marvels as Jack's father with some great comic touches …

Steven Pacey is outstanding as Colonel Sir Francis Chesney.

Steven Pacey, whose Colonel Sir Francis Chesney was the most glorious piece of comedic acting of the evening. His stiff upper lip in the second act as he pursued Donna Lucia for the sake of his son was the funniest thing I have seen this year.

Steven Pacey upright and military as a concerned father.

Steven Pacey is perfect as Jack's dashing old dad.

Social Media and BLOG Reviews:
"Stand-out performance was Steven Pacey. He was funny, sweet and believable as father of one of the young suitors."

Steven Pacey makes a strong impact as Sir Francis, full of vitality and spark, absolutely the old Indian Colonel and really relishing his lines. "That's not the way an old soldier makes love" brought the house down.

Much more animated is a superb and deadpan Steven Pacey, who does wonders as Chesney's well-adjusted father. Willing to marry the fake Charley's Aunt in order to restore the family's finances, Pacey's elder Chesney pauses to think about the prospect of consummation, a thought that sends his body into a convulsion of revulsion. It's the kind of performance that you just wouldn't get in an amateur dramatics performance.

The performances of the whole cast seemed to be carried by Mathew Horne and particularly Steven Pacey …

Steven Pacey's posh old colonel in desperate need of a rich wife … stunning performances.

Blanche Marvin's, BLOG
Dominic Tighe, Steven Pacey, Jane Asher and Charles Kay capture the spirit of Ian Talbot's enjoyable staging with particular flair (cont)

— David Harrison (@davidharrisonbn) October 2, 2012
Please note: The term Menier Chocolate Factory as well as all associated graphics, logos, and/or other tradermarks, tradenames or copyrights are the property of the Menier Chocolate Factory and are used herein for factual descriptive purposes only. We are in no way associated with or authorized by the Menier Chocolate Factory and neither that entity nor any of its affiliates have licensed or endorsed us to sell tickets, goods and or services in conjunction with their events.