La Cage aux Folles (2009)
The idyllic existence of Georges (Steven Pacey) and the dazzling drag artiste Albin (Graham Norton), star of the La Cage aux Folles club, is threatened when Georges' son Jean-Michele (Stuart Neal) announces his engagement to the daughter of a right-wing politician (Iain Mitchell), who wants to close down the local colourful nightlife! With a visit from the prospective in-laws imminent, they all decide to take drastic action to hide their lifestyle…but can they keep it up? La Cage aux Folles is a timeless and deliciously funny tale of family values, unconditional love, and above all, the need to be proud of who we are.

Text from Promotional Material

Announcements:
DATE
SOURCE
Byline
September 24, 2008
The Stage,
Norton in line to make West End debut
Alistair Smith
November 23, 2008
Playbill,
Graham Norton and Steven Pacey to Join London Cast of La Cage Revival
Mark Shenton
November 27, 2008
Official London Theatre,
Norton joins La Cage
Carolyn Bishop
November 27, 2008
What's On Stage,
Graham Norton Drags up for La Cage Stage Debut
Terri Paddock
November 27, 2008
The Stage,
Norton to make West End theatre debut in La Cage aux Folles
Lalayn Baluch
November 27, 2008
Pink News,
Graham Norton to join La Cage Aux Folles Next Year
Tony Grew
November 27, 2089
Contactmusic.com,
Graham Norton is unveiled in…
Matthew Amer
Publicity and News:
Ambassador Theatre Group Magazine, Spring 2009, pages 4-5, includes an interview with Graham Norton, and features two photographs of Steven (top, right, page 5). See below:
La Cage aux Folles was revived in 2008 by the Menier Chocolate Factory, and then was later transferred, on October 20, 2008, to the Playhouse Theatre. The production closed January 2, 2010.

The roles of Albin and Georges have been re-cast in London every three months with well-known actors to keep the production fresh and public interest high. Television personality Graham Norton took over the role of Albin on January 19, 2009, alongside Steven Pacey as Georges.

They were succeeded on May 4, 2009, by Roger Allam as Albin and Philip Quast reprising his role of Georges from the Menier Chocolate Factory.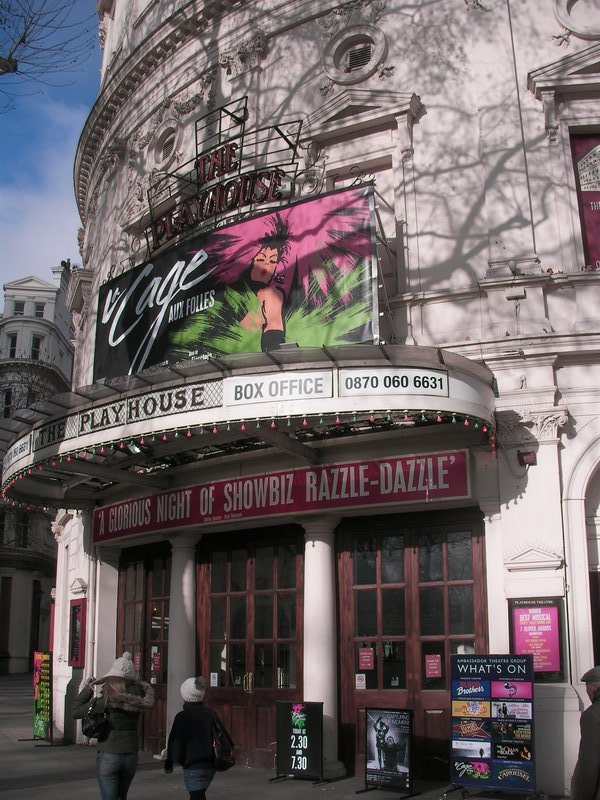 La Cage aux Folles was in 2 acts, with one interval.
Dates
19 January – 2 May, 2009 (extended from 25 April, 2009)
Times
Monday – Saturday 7.30pm
Thursday & Saturday 2.30pm
Ticket Prices
Stalls £54 – £39.50
Dress Cirlce £54 – £39.50
Upper Circle £29.50 – £17.50
Cabaret Tables £58.50
Premium Seats £56.50
Programmes £3
Cast:
CAST
CHARACTER
Steven Pacey
Georges
Graham Norton
Albin
Stuart Neal
Jean-Michel
Iain Mitchell
M. Renaud, Edouard Dindon
Jason Pennycooke
M.Renaud
Adrian Der Gregorian
Francis
Alicia Davies
Anne
Abigail McKern
Mme. Renaud, Mme. Dindon
Tracie Bennett
Jacqueline
Nolan Frederick
Nicholas Cunningham
Darren Carnall
Gary Murphy
Dane Quixall
Ben Bunce
Les Cagelles
Chantal
Hanna
Mercedes
Bitelle
Angelique
Phaedra
Ben Derry
Etienne
Leanne Harwood
Colette
Robert Maskell
Tabarro

Creatives:
CREATIVES
Writer
Harvey Fierstein
(based on the play by Jean Poiret)
Music and Lyrics
Jerry Herman
Director
Terry Johnson
Lighting Design
Nick Richings
Sound Design
Gareth Owen
Music Supervision & Orchestrations
Musical Director
Jason Carr
Michael Haslam
Choreography
Lynne Page
Set Design
Tim Shortall
Costume Design
Matthew Wright
Wig & Makeup Design
Richard Mawbey
Song List:
Act I
Prelude
We Are What We Are – Les Cagelles and Company
A Little More Mascara – Albin and Company
With Anne on My Arm – Jean-Michel
With You on My Arm – Georges and Albin
The Promenade
Song on the Sand – Georges
La Cage aux Folles – Albin, Les Cagelles and Company
I Am What I Am – Albin
Act II
Song on the Sand – Georges and Albin
Masculinity – Georges, Albin and Townspeople
Look Over There – Georges
Cocktail Counterpoint (aka "Dishes") – Georges, Mme Dindon, Jean-Michel Dindon and Jacob
The Best of Times – Albin, Jacqueline and Patrons
Look Over There (Reprise) – Jean-Michel and Georges
The Finale
Space dictates that we have only included photos featuring Steven Pacey.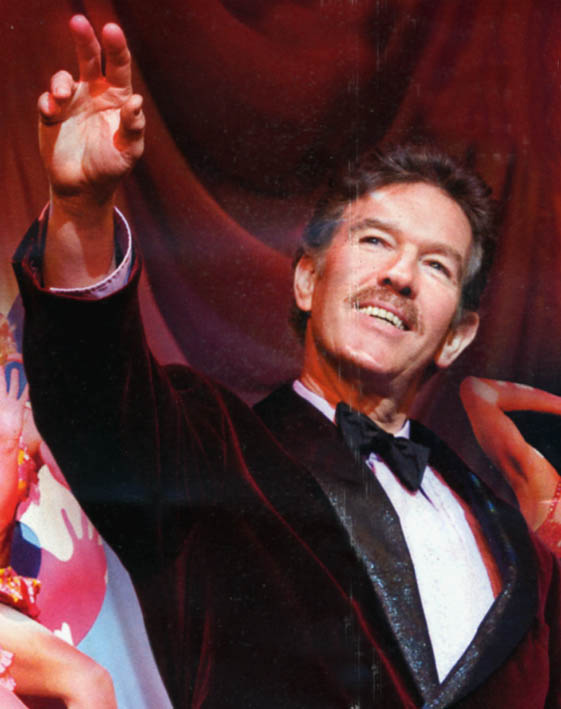 Photo: promotional leaflets , uncredited
The performances are first class, and I would be thrilled to catch Norton, Pacey or Pennycooke in any other stage show.

Dooyoo, Essexgirl2006
Please note: The terms Menier Chocolate Factory, the Playhouse Theatre, and others associated with this production, as well as all associated graphics, logos, and/or other tradermarks, tradenames or copyrights are the property of David Babani for Chocolate Factory Productions, Sonia Friedman Productions, David Ian Productions, Tulchin/Bartner, The Ambassador Theatre Group, Jamie Hendry, Matthew Mitchell and David Mirvish and are used herein for factual descriptive purposes only. We are in no way associated with or authorized by the owners and neither that entity nor any of its affiliates have licensed or endorsed us to sell tickets, goods and or services in conjunction with their events.
Write a Comment
You must be logged in to post a comment.