The Old Masters (2004)
On a summer's day in 1937 in the gardens of his Florentine villa, Bernard Berenson, the renowned art critic and collector, is casually discussing art and world affairs with his wife Mary and his mistress Nicky. Unbeknownst to Berenson, at a nearby hotel, multi-millionaire Joseph Duveen is preparing to bring him a priceless painting to examine – though Duveen knows this may shatter their 30-year, and highly secret, business arrangement.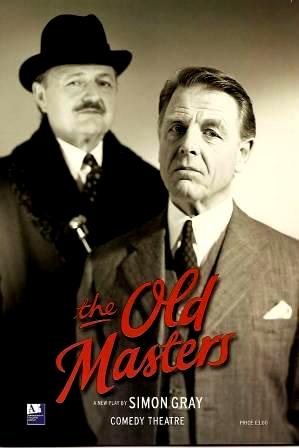 The Old Masters premiered at the Birmingham Repertory Theatre on 4th June 2004. It had a short season, 4 – 19 June, before transferring to the Comedy Theatre, London, on 1 July 2004 (previews from 26 June). Its initial run until 28 August was later extended until 13 November, then again until 18 December, 2004.
The Old Masters is a play in two acts. Sessions were approximately 2 hours and 35-40 minutes, with one interval. Tickets were £10 – £21.75 in Birmingham and £15 – £37.50 in London. In London, the shwo ran Monday to Saturday at 19:45 with matinees on Saturday and Thursday at 14:30
Cast and Creatives:
| CAST | CHARACTER |
| --- | --- |
| Edward Fox | Bernard Berenson |
| Peter Bowles | Joseph Duveen |
| Barbara Jefford | Mary |
| Sally Dexter | Niky |
| Steven Pacey | Fowles |
CREATIVES
Writer
Simon Gray
(see this website for the history of the play)
Director
Harold Pinter
Set Designer
Eileen Diss
Lighting Design
Mick Hughes
Sound Design
John Leaonard
Costume Design
Dany Everett
Space dictates that we have only included photos featuring Steven Pacey. Only one tiny photograph is available, from Harold Pinter's Website.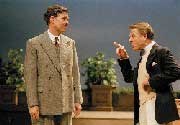 Steven Pacey and Edward Fox
Photographer: Hugo Glendinning
"There's excellent support, too, from … Steven Pacey as Duveen's emissary.

"Steven Pacey has a pivotal role in Act 1 as the messenger"
"All in all an impressive play, beautifully directed and immaculately acted."
Other reviews published at the time (eg The Guardian and The Times) are no longer available online.
Please note: The term The Old Masters as well as all associated graphics, logos, and/or other tradermarks, tradenames or copyrights are the property of Simon Gray, Greg Ripley-Duggan with Duveen Productions and Ted Tulchin in a Birmingham Repertory Theatre Production, and the Comedy Theatre and are used herein for factual descriptive purposes only. We are in no way associated with or authorized by the owners and neither that entity nor any of its affiliates have licensed or endorsed us to sell tickets, goods and or services in conjunction with their events.