The Mercury Workshop Musical Revue (1994)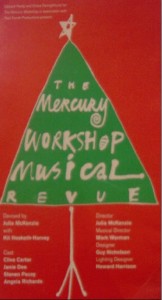 Musical revue devised (with Kit Hesketh-Harvey) and directed by Julia McKenzie.
It is a charming little showcase of new musical talent: some 20 sardonic, topical songs by a variety of writers and composers, interspersed with mini-sketches.
The Mercury Workshop Musical Revue ran during December 1994 at the Jermyn Street Theatre.
CAST
Janie Dee, Clive Carter, Angela Richards, and Steven Pacey

MUSICAL NUMBERS
This section is pieced together from a collection of sources, and does not represent the order of performance. Further information about this show would be greatly appreciated.
Title
Sung by
Music
Lyrics
Jump
Janie Dee and Steven Pacey
LISTEN
Cathy Shostak
Mary Stewart-David
Community Care
Eric Angus, additional music by Cathy Shostak
Iain Halstead
Check-out Lil
I Never Knew
Other composers involved include: Laurence Phillips, George Stiles, Alan Fleming-Baird and Andy Small.
| DATE | SOURCE | REVIEWER | STAR RATING |
| --- | --- | --- | --- |
| 21 December 1994 | The Independent | Sarah Hemming | no rating |
| December 1994 | The Guardian | Michael Billington | |
| December 1994 | The Stage | | |
Copies of the articles from The Guardian and The Stage are not available, at this time. Cathy Shostack quotes the following on her website:
"… highly enjoyable, deftly presented two hour show"

Michael Billington, The Guardian

"… the real stars [of the show] were the writers, too many to mention, but all deserving credit."

The Stage