Steven's episode of Pie in the Sky (Series 4, Episode 5, Breaking Bread, originally aired in 1996) will be repeated on ITV during next week.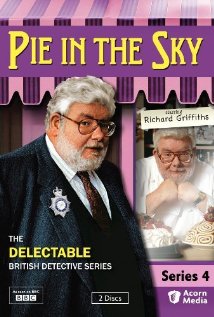 Episode Synopsis:

To save money Fisher turns over the police catering to a mass production company The Happy Ploughman, clients of Margaret. Henry is appalled but investigates after several acts of sabotage against the firm. Former police canteen manager Tom Selly and his bread supplier Flora McKee are suspects and Henry arrests Flora. However such is the resentment in the force that no-one uses the new automated canteen and Fisher hints that he would like to find indiscrepancies in The Happy Ploughman's books that would allow him to revoke the franchise. Henry duly obliges, as well as catching the real saboteur.

Steven Pacey plays Geoff Reece, the slippery owner of The Happy Ploughman.
ITV3
Wednesday, 19 June, 2013
3:10pm
ITV3 + 1
Wednesday, 19 June, 2013
4:10pm
ITV3
Thursday, 20 June, 2013
12:40am
ITV3 + 1
Thursday, 20 June, 2013
1:40am