Steven Pacey recently appeared in the popular science documentary series, Dark Matters: Twisted but True.
Dark Matters: Twisted but True explores strange stories of the weird side of science, that can be ethically controversial and with sometimes mind blowing results. Each episode covers three extraordinary and unexpected stories that will leave you with big questions about what we know and who we are.

In Missing Link Mystery, Steven plays Martin Hinton in a re-enactment of the 'Piltdown Man' hoax, in which a skull found in 1912 is thought to provide the 'missing link' in the puzzle of human evolution.
Missing Link Mystery is one of three stories in Series 3, Episode 6 (labelled Series 2, Episode 13 elsewhere), first broadcast on the US Discovery Network's Science Channel at the end of last year (December 26, 2012).

The other two investigations in this 44 minute episode are: Magical Jet Propulsion, where a man combined the occult and rockets to produce the technology that underpinned 'Mutually Assured Destruction', and the story of Typhoid Mary, in which Mary Mallon infects hundreds with typhoid despite being healthy.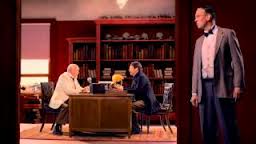 Steven Pacey (right) in Dark Matters: Twisted but True
(from YouTube)

For US viewers only, the single episode is available as a digital download or live streaming, or on Youtube. DVD copies are not currently available.