The big night is tonight! The opening and press night for Six Degrees of Separation is tonight, 19 January. Break a couple of legs, everyone!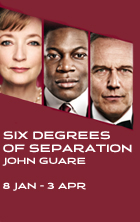 Make sure you visit the Old Vic Theatre to get your tickets. The season now runs until 3 April.
Image: publicity material The Old Vic.