The news for which Steven's Blake's 7 fans have been waiting! Listen to the trailer.
Out now: #Blakes7 Liberator Chronicles Vol 6 with the return of Steven Pacey and what happened to Jenna and Blake… http://t.co/W4FAvsrAAb

— Big Finish (@bigfinish) October 17, 2013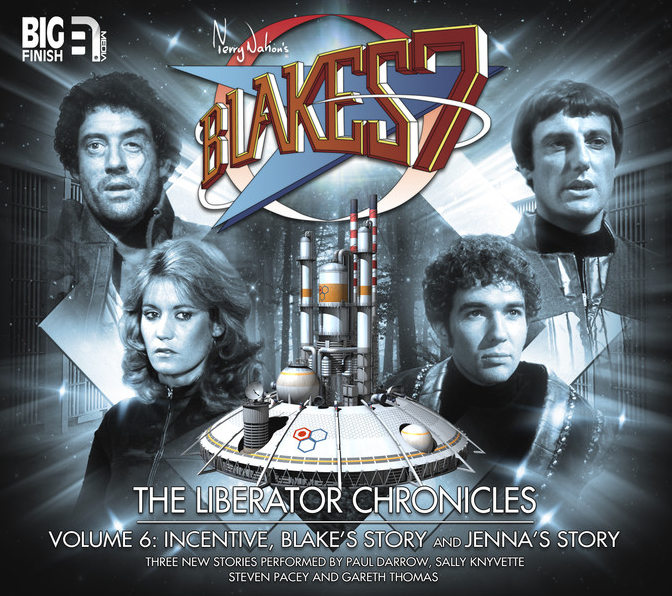 Three enhanced audiobooks performed by the stars of the classic BBC television series. These stories are set during Series 3.

Incentive by Peter Anghelides
Starring Paul Darrow as Avon, Steven Pacey as Tarrant and Adrian Lukis as Bracheeni
The Liberator crew are recovering from a Galactic War and searching for their lost members Blake and Jenna. But it's a search that leads them into terrible danger…

Jenna's Story by Steve Lyons
Starring Sally Knyvette as Jenna and John Banks as Correl
Jenna's story is finally told – from her escape from the Liberator during the Galactia War, to her determination to continue the fight against the Federation alone… with the odds stacked against her.

Blake's Story by Mark Wright and Cavan Scott
Starring Gareth Thomas as Blake and Paul Darrow as Avon
Blake's story is finally told – from his escape from the Liberator during the Galactic War, to his new life as a troubled, scarred man on a distant rebel world…

Written By: Peter Anghelides, Steve Lyons, Mark Wright and Cavan Scott
Directed By: Ken Bentley

Cast
Paul Darrow (Avon), Steven Pacey (Tarrant), Sally Knyvette (Jenna), Gareth Thomas (Blake), Adrian Lukis (Bracheeni), John Banks (Correl)
Please note: The term Big Finish, Liberator Chronicles, as well as all associated graphics, logos, and/or other tradermarks, tradenames or copyrights are the property of Big Finish and are used herein for factual descriptive purposes only. We are in no way associated with or authorized by Big Finish and neither that entity nor any of its affiliates have licensed or endorsed us to sell tickets, goods and or services in conjunction with their events.