Steven Pacey, as well as the entire cast of Blake's 7, was interviewed in a 1979 issue of Starburst magazine (Vol 2, No 6, or #18).
The entire two part special is presented here.
Part 1 (.pdf; click to view) features interviews with Paul Darrow, Jan Chappell, Michael Keating, Josette Simon and Peter Tuddenham, as well as Steven.
Part 2 (.pdf; click to view) is an interview with Blake's 7 producer, David Maloney.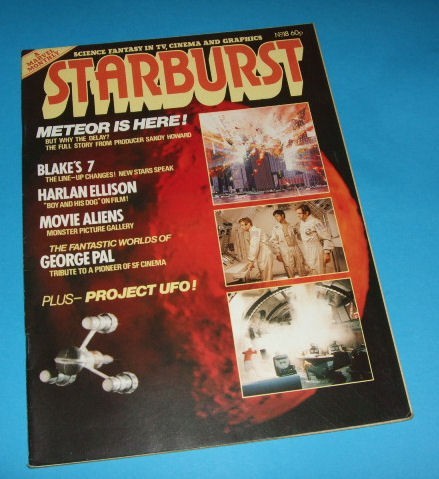 Steven Pacey

Ralph Scott,
Starburst Magazine, #18, 1979, p. 17-18,
Verbatim

Steven Pacey, the new male Sevener, looks very much a member of Blake's 7 with his tall commanding figure, curly hair and crisp voice.

His career spans back to the age of eleven, working in the theatre, though he never attended drama school, an culminated in The Winslow Boy in London alongside Kenneth Moore.

On the set Steven looks very much like a younger Roj Blake, but as he stresses in the interview the two characters are completely different.

Starburst: Who is Tarrant?

Steven Pacey: I think this is going to be very confusing for ardent fans of Blake's 7 who will take the new character for a substitute Blake, which in fact he is not. Blake was an idealist, while Tarrant is very much the mercenary. He enjoys the battles, the adventures, where as Blake always had a goal Tarrant is quite happy to take risks for no other reason than say, revenge.

Starburst: In watching Tarrant aboard the Liberator set he appears to have become a new leader.

Steven Pacey: Yes, he does appear rather bossy, doesn't he! I suppose it is by virtue of being the pilot, he does tend to make a lot of decisions about course and firing instructions, as opposed to Avon.

Starburst: Going back to Episode One of the first series, the man who originally betrayed Blake to the Federation was called Tarrant. Is it the same character you play?

Steven Pacey: No, this is strictly a coincidence. There was also speculation that I was Del Grant from the last series, again, I am not.

Starburst: How do you see Tarrant's relationship with Avon?

Steven Pacey: There should be a better relationship between Tarrant and Avon than between Blake and Avon. We are always at loggerheads, though we do have our moments. It's a conflict of egos to a great extent. They have a mutual respect for each other.

Starburst: So you see this season doing well.

Steven Pacey: Yes indeed, it's going to do great guns!